Global sunflower oil production, application, market size & price analysis
Sunflower oil is extracted from oily sunflower seeds, with rich in vitamin E, and its taste and appearance are very light. Besides, it has a low saturated fat content, which is a combination of monounsaturated fat and polyunsaturated fat. Sunflower oil has been recognized and valued by international chefs for its light taste, frying performance and health benefits. All in all, sunflower oil meets the needs of consumers and food manufacturers for healthy and high performance non-GMO vegetable oils.
This article will analyze the global sunflower oil production, application, market size and price in turn. If you have a plan to set up a sunflower oil production plant, I hope it can help you.
Global sunflower oil production analysis:
Sunflower oil production accounts for about 8% of the global total vegetable oil production. The top three are palm oil (±33%), soybean oil (±29%) and rapeseed oil (±16%). There is no doubt that the global level of sunflowerseed production is a determining factor in the level of sunflower oil production.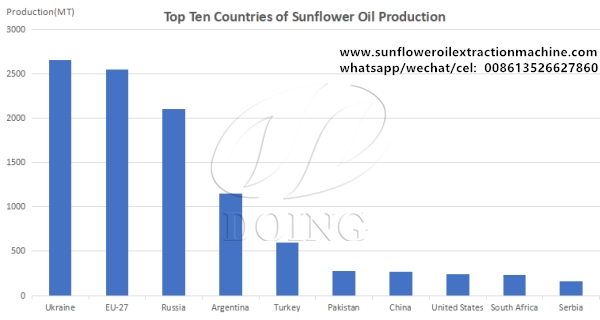 The largest sunflower oil producers during 2016/2017
The 2016/2017 sunflowerseed production statistics show that Ukraine, the EU and Russia are the largest producers. The world production of sunflower seeds has been increasing for the past 10 years for four reasons: 1. growth in the oilseed industry; 2. increased demand for biodiesel raw materials; 3. increased demand for vegetable oil due to population increase; 4. Livestock feed diets' demand for oilseed meal.
Global sunflower oil application analysis:
Sunflower oil is mainly used in food or technical applications such as cooking oil, biofuels and cosmetics. However, in most countries sunflower oil is mainly used for cooking purposes. Sunflower oil contains a variety of beneficial substances such as sterols, vitamins, linoleic acid, etc., of which natural vitamin E content is the highest in all major vegetable oils, and linoleic acid content can reach 70%.
Sunflower oil can reduce serum Middle cholesterol levels, lowering triglyceride levels, have a lowering of blood pressure. Moreover, sunflower oil is light and transparent, and can preserve the flavor of natural food during cooking. Its smoke point is also high, which can eliminate the harm of oil smoke to the human body.
Global sunflower oil market size analysis:
The global sunflower oil trade accounts for 30% of the total consumption. Currently, Asia Pacific region captured the maximum share in revenue of sunflower oil market and is anticipated to dominate over the forecast period. In the Asia-Pacific region, India, China, Japan and Indonesia accounted for the highest proportion of total sunflower oil market revenue in 2017. Europe occupies the second largest share of the entire market. Rising health conscious customer is expected to boost the growth of the market.
The global sunflower oil market is growing rapidly and is expected to achieve significant growth in the next five years until 2023. Increased use of premium edible oils and increased demand for and consumption of processed foods are expected to increase to 2023.
Global sunflower oil price analysis: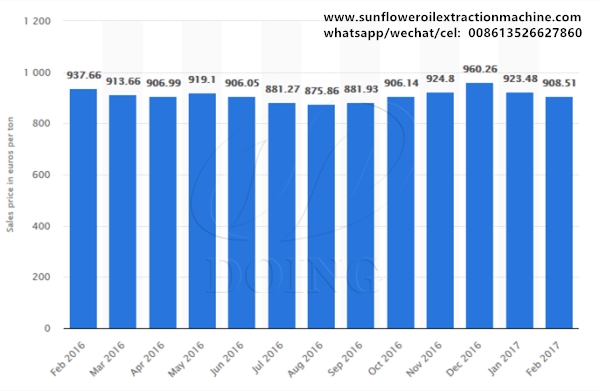 Monthly sales price of sunflower oil in Europe from 2016 to 2017* (in euros per ton)
This statistic shows the monthly sales price of European sunflower oil from 2016 to 2017. During this period, the sales price of sunflower oil fluctuated from 937.66 euros per ton in February 2016 to 908.51 euros per ton in February 2017. Overall, the price of sunflower oil is at a steady state.
From the above analysis, we can see that the production of sunflower oil is increasing every year, the market demand is also increasing, and the price of sunflower oil is stable, which is also one of the favorite types of edible oil in people's lives. If you plan to build a sunflower oil production plant, you can definitely make a profit.
Henan Doing can provide services for you from sunflower oil production plant manufacturing, delivery, installation, training and commissioning. Any questions, inquiry please!

PREV:Nothing

NEXT:How to start a sunflower oil factory?
Leave a message
If you wanna to get more details about Global sunflower oil production, application, market size & price analysis, you can send E-mail to sales@doinggroup.com. Or you can consult our professional engineers and specialized sales team by leaving a message in below form. We will contact you ASAP. You also can visit our factory in Henan, China.