How to start a sunflower oil processing business in Kenya?
If you want to do sunflower oil business in Kenya, you must have several conditions: 1. Fund 2. Raw material - sunflower seeds 3. Site 4. Sunflower oil processing machine.
Sufficient fund, a stable source of raw material supply and a suitable site are crucial for all people who want to do business. This is also the first thing they need to think about and solve. But farther than this, another most important thing for investors is that they need to find a reliable sunflower oil processing machine supplier and buy high quality equipment.
As a professional manufacturer of cooking oil processing machine, Henan Glory Company has more than ten years of experience in oil and fat, dozens of professional engineers, and rich experience in domestic and foreign edible oil mill plant projects, we can develop and produce the most suitable and optimized equipment for sunflower seed oil extraction. Here, I will introduce the extraction process of sunflower oil and the equipment that used in the whole sunflower oil processing equipment.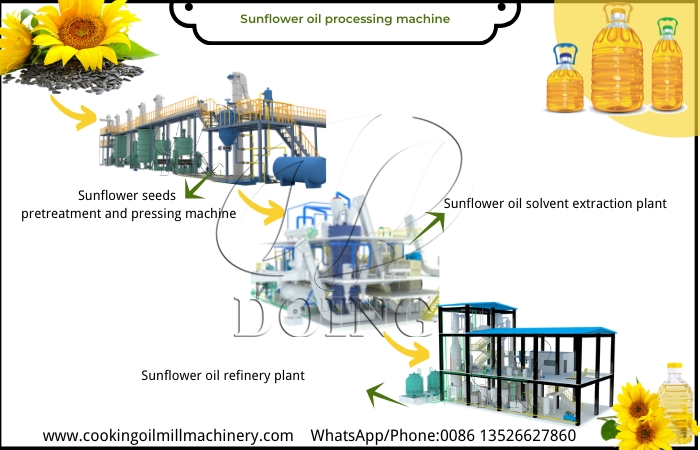 Complete set of sunflower oil procesing machine
1. Pretreatment of Sunflower Seeds
The sunflower seeds are cleaned, de-stoned, magnetically separated, shelled, flaked, steamed and fried, so that the sunflower seeds are more suitable for oil extraction. The equipment used in this process are cleaning machine, cracker machine, kernel and shell separating machine, flaking machine, cooking machine and so on.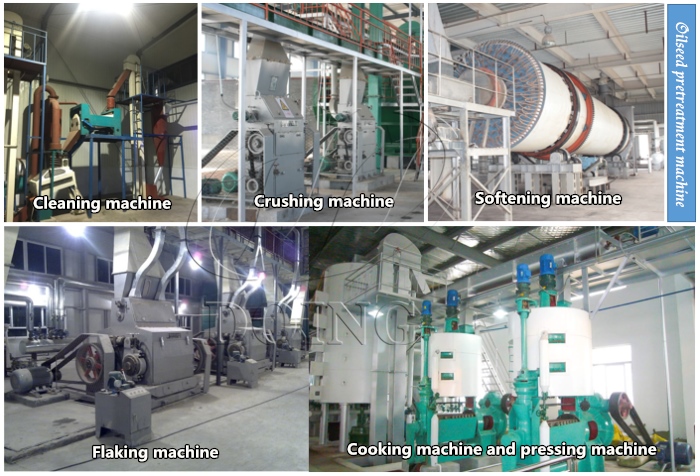 Sunflower seeds pretreatment and pressing machine
2. Sunflower Seeds Pressing
The sunflower oil is obtained by extrusion of external mechanical forces. In this process, the equipment need to use is sunflower oil press machine.
3. Crude sunflower oil refining
The crude sunflower seed oil obtained by pressing is refined to remove gums, free fatty acids, pigments and unpleasant odors in the crude oil. The equipment used in this process is sunflower oil refining machine. But according to the different production scale, budget level and degree of automation, sunflower oil refining machine can be divided into three types, which are batch type edible oil refining equipment, semi-continuous edible oil refining equipment and full continuous edible oil refining equipment. People can choose according to their actual situation.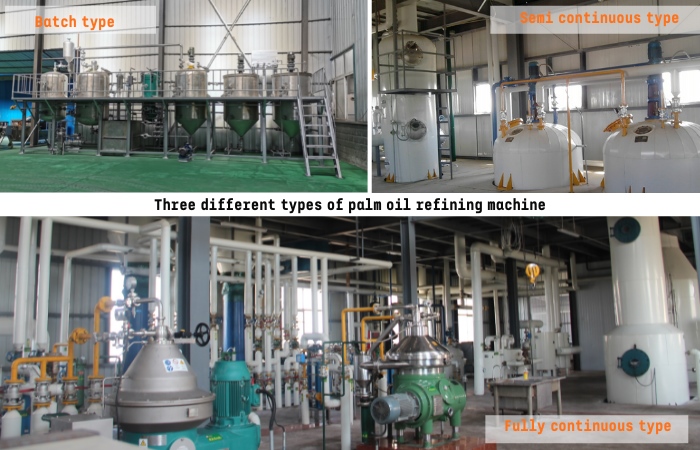 Various types of sunflower oil refining machine
4. Sunflower oil filling
The refined cooking oil need to be processed in the cooking oil filling workshop before it reaches the market, which includes bottling, capping, labelling, spraying and packaging. The equipment used in this process is sunflower oil filling production line.
Professional quality-assured sunflower oil processing machine plays an important role in the sunflower oil business. If you have cooking oil making machine needs, please feel free to contact us. Henan Glory Company is committed to providing customers with the most professional equipment and services.
Leave a message
If you wanna to get more details about How to start a sunflower oil processing business in Kenya?, you can send E-mail to sales@doinggroup.com. Or you can consult our professional engineers and specialized sales team by leaving a message in below form. We will contact you ASAP. You also can visit our factory in Henan, China.