What oil seeds can be used to make cooking oil?
The oil seeds usually used to make cooking oil around the world can be roughly divided into 2 categories: the oil palm and other oil seeds. The oil palm is usually unique to tropical regions, while the other oil seeds includes peanuts, soybeans, sunflower seeds, cotton seeds, etc., are more widely distributed. These two oil seeds are not only different in commonness, but also in terms of texture, oil content, structure, etc. So there are differences in many aspects such as processing technology and processing equipment configuration.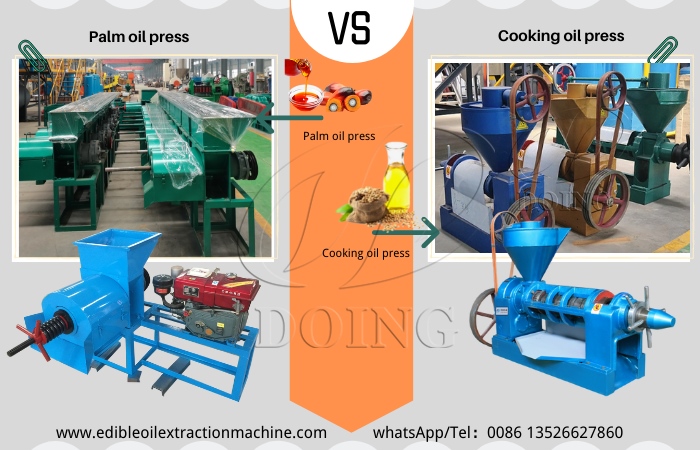 Comparison of palm oil presses and cooking oil press
In addition, the oil seed oil content is 30% as the dividing line. Oil seeds above this statistic are suitable for pressing, and oil seeds below this value are suitable for making solvent extraction cooking oil. For example, the peanuts and sunflower seeds mentioned above can be squeezed to extract edible oil, while the rice bran with lower oil content can only be extracted with the leaching method. The detailed cooking oil making process is as follows:
1 Peanut oil making process
Peanut oil needs to go through the process of cleaning, shelling, crushing, softening, flaking, cooking,pre-pressing, solvent extraction and refining to obtain refined peanut oil.
2 Rice bran oil making process
The rice bran raw materials needs to go through the process of cleaning, conditioning, puffing, solvent extraction and refining, then you can get the refined rice bran oil.
While, for the special oil seeds, oil palm, you need to make it go through the process of sterilizing, threshing, digesting, pressing, clarifying, and drying, then you can obtain the crude palm oil.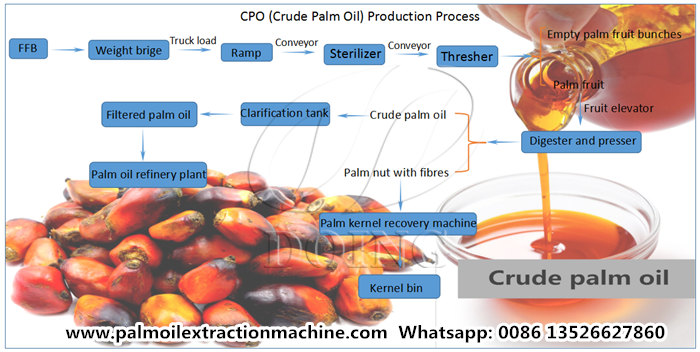 Crude palm oil making process
The above is a rough introduction of three cooking oil making methods for you. If you have other uncommon oil seeds that need to be processed but you do not know how to process it, you can consult us for free, and our team of engineers can recommend a suitable cooking oil production line for you.
Leave a message
If you wanna to get more details about What oil seeds can be used to make cooking oil?, you can send E-mail to sales@doinggroup.com. Or you can consult our professional engineers and specialized sales team by leaving a message in below form. We will contact you ASAP. You also can visit our factory in Henan, China.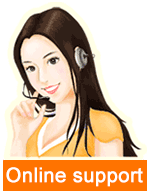 Leave a message

Tel/Whatsapp:008613526627860