What should be paid attention to when buying sunflower oil refining machine?
In order to further remove harmful and useless substances in crude sunflower oil and enhance its market competitiveness, sunflower oil refining machine is usually used for deep processing to obtain standard edible oil. What should be paid attention to when buying sunflower oil refining machine? There are mainly three factors: production capacity, processing technology, machine supplier.
First, pay attention to production capacity. Sunflower oil refining machine can be divided into 3 types according to different production capacities, batch type refining machine, semi-continuous refining machine and full continuous type refining machine.The processing capabilities of these three devices are respectively 1-20tpd, 20-50tpd, above 30tpd. Customers can select it according to their own sunflower oil refining requirements and investments.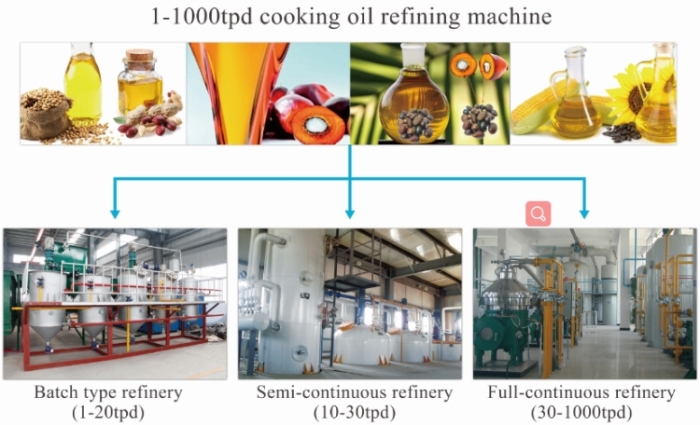 Three devices of sunflower oil refining machine
Second, pay attention to processing technology. There are mainly two kinds of processing technologies for refining, one is physical refining and chemical refining. In the refining process, the choice of processing technology still needs to be considered according to crude oil type, refined oil quality requirements, operation cost, environmental protection cost and other factors. If you don't know how to choose, you can contact us and our professional engineer can offer you professional solutions.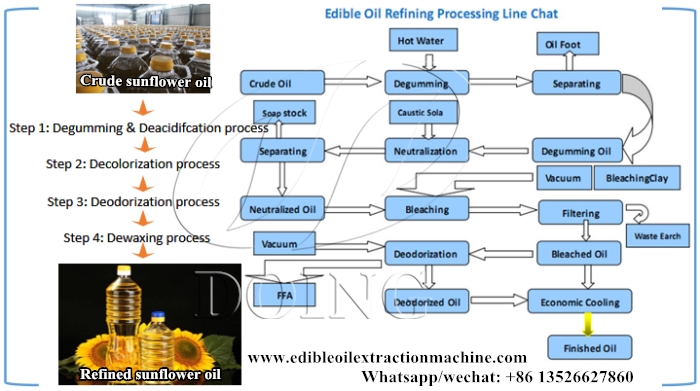 Sunflower oil refining process
Third, pay attention to machine supplier. When purchasing sunflower oil refining machine, you must pay attention to whether the machine supplier is a direct manufacturer. Generally speaking, a reliable direct machine manufacturers have rich sunflower oil refining experience, and can provide you with multiple types of machine options at a more favorable price and more complete after-sales service.
Henan Glory Company can customize different types of high quality sunflower seed oil refining machine according to customer needs, which is the best choice for you to put into sunflower oil refining business. Please leave a message or call us to tell us your specific needs and get the latest free quotation!
Leave a message
If you wanna to get more details about What should be paid attention to when buying sunflower oil refining machine?, you can send E-mail to sales@doinggroup.com. Or you can consult our professional engineers and specialized sales team by leaving a message in below form. We will contact you ASAP. You also can visit our factory in Henan, China.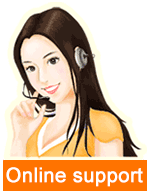 Leave a message

Tel/Whatsapp:008613526627860