What questions do you need to know about purchasing sunflower oil processing machine?
Henan Glory Company has received a lot of inquiries about the sunflower oil processing machine. This article sorts out answers to several frequently asked questions for customer reference.
Q1:What is the processing capacity of the equipment? Can it be customized?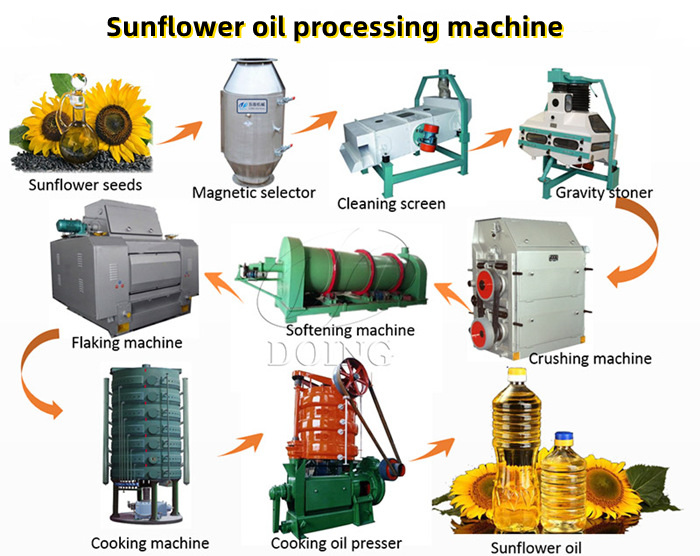 Sunflower oil processing equipment
Our equipment can be divided into single machines with small processing capacity, usually under 10TPD, depending on the demand. For example, our minimum capacity is 1.3TPD, which means you can process 30-50 kg of sunflower seeds per hour. For small capacities, we have individual presses or press and filter machines, which can be customized for you according to your needs.
When the daily processing capacity is between 10TPD-50TPD. We will design a complete press line, including the preliminary cleaning of raw materials, removing impurities such as leaves and metals from the raw materials. In the middle stage of frying and pressing, we can get more oil in this stage. The later stage is the filtration stage. The filtering machine further clarifies the fine impurities in the crude oil to make the crude oil cleaner.
When the processing volume reaches 50TPD or more per day, In order to get more oil and get more profit, We will also add solvent extraction equipment.
Q2: What is the price of the equipment? Is shipping included?
Regarding the price, the price for a single 1.3TPD oil press is FOB 2100USD and we have a discount for buying more than one at a time. The price of other individual machines will vary depending on the processing capacity.
For 10-50TPD press lines, the typical price range is $50,000-$150,000. For production equipment above 50TPD, pretreatment + solvent extraction equipment, the total amount will be more than 300,000 USD. For specific prices, we have professional engineers who can provide customized solutions based on your budget and specific needs.
Because shipping costs can change over time, in order to avoid unnecessary losses to both parties, none of our quotes include shipping costs from China to the destination country.
Q3: What equipment do I need to sell sunflower oil directly to supermarkets?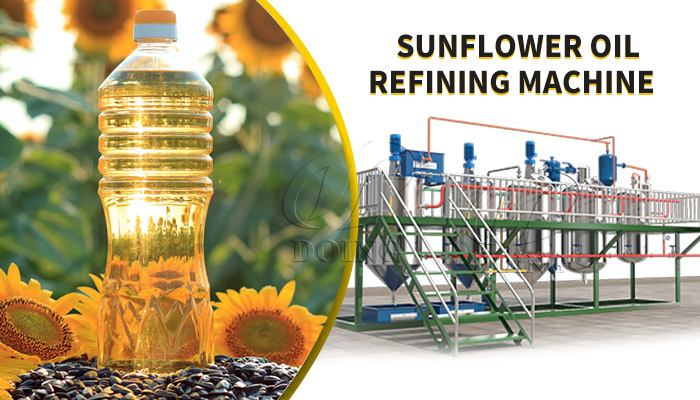 Sunflower oil refining machine
To sell sunflower oil to supermarkets, there are usually high requirements for the finished oil. So in addition to the gross oil from the pressing and solvent extraction equipment mentioned earlier. Refining equipment is also needed to degumming, deacidification, decolorization and deodorization the crude oil. The gums, free fatty acids, pigments and odors are removed from the crude oil to improve the quality of the edible oil, respectively. After that, dewaxing equipment is needed to cool down the oil and remove the wax from the oil that is not easily digestible by humans. Finally, packaging equipment such as canning, capping, labeling and coding is needed to label the finished oil so that it can be sold in supermarkets. Henan Glory Company can provide all these equipment.
Q4: What is the residual oil rate of the equipment?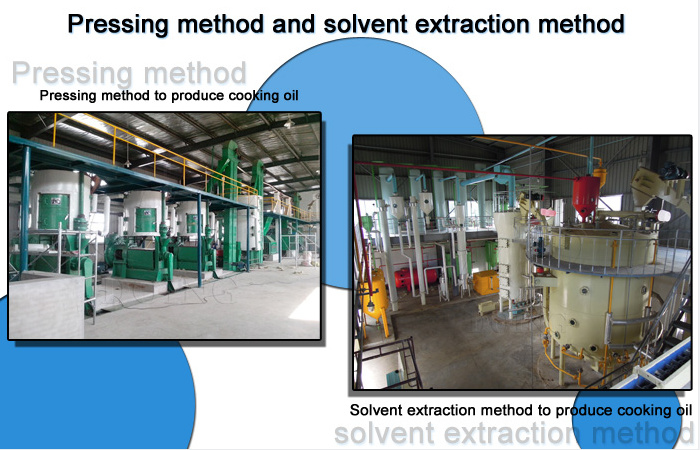 Pressing equipment and solvent extraction equipment
The residual oil rate of our pressing equipment can be 6%-7%. The residual oil rate of solvent extraction equipment is less than 1%.
Q5: What are the payment terms and payment methods?
For single machine equipment, you usually need to pay the full cost through bank before delivery, or you can pay through Ali platform. For large production line, we will prepare for production after 50% of the full payment through bank. After receiving the full payment, we will arrange the shipment.
If you want to start a sunflower oil processing business or purchase sunflower oil processing equipment, please contact us, Henan Glory Company will provide you with professional services and equipment.
Leave a message
If you wanna to get more details about What questions do you need to know about purchasing sunflower oil processing machine?, you can send E-mail to sales@doinggroup.com. Or you can consult our professional engineers and specialized sales team by leaving a message in below form. We will contact you ASAP. You also can visit our factory in Henan, China.